The Screenwriters Network is a fast-growing community of over 5000+ screenwriters looking to network, improve their craft, exchange feedback and workshop ideas. Our goal is to provide a supportive community of like-minded individuals who are serious about screenwriting and help them any way we can. 
It all goes down in the chat platform known as Discord. Join us!
https://discord.gg/bBHNppT or https://tinyurl.com/screenwritersnetwork
The Contest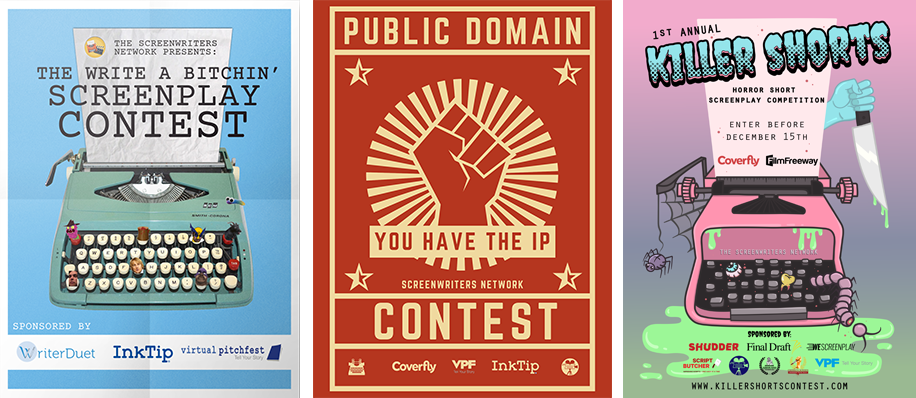 The Screenwriters Network hosts regular contests to motivate and reward our members on their screenwriting journeys. We have hosted two server-only contests in the past, and Killer Shorts is our first time making it accessible to anyone around the world. It is 100% in thanks to our VIP Members who make monthly pledges on Patreon to support the community that we are able to do this, our biggest and most exciting contest yet!
The Screenwriters Network is 100% free to access for EVERYONE.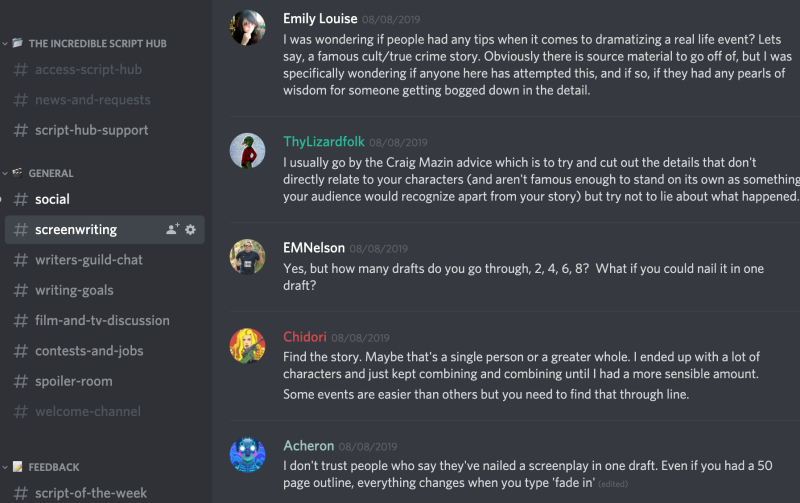 Real time chat in text and voice channels, available 24/7.
A safe for work, inclusive, and troll-free environment. Toxicity is not allowed!
Exclusive channels, perks and prizes for VIP members.
Professionals Lounge for Verified Industry Members.
A resource hub containing over 15,000 screenplays.
Script Feedback.
Logline Workshop.
General screenwriting advice.
Writer's Guild Chat.
Monthly Script Club.
Regular contests, collaborations, writing sprints, groups and duels.
Weekly table reads of screenplays, including voice actor participation.
Titlepalooza: A daily logline writing challenge to help brainstorm movie ideas!
Film & TV Show discussion channels.
Movie Nights!
and much, much more!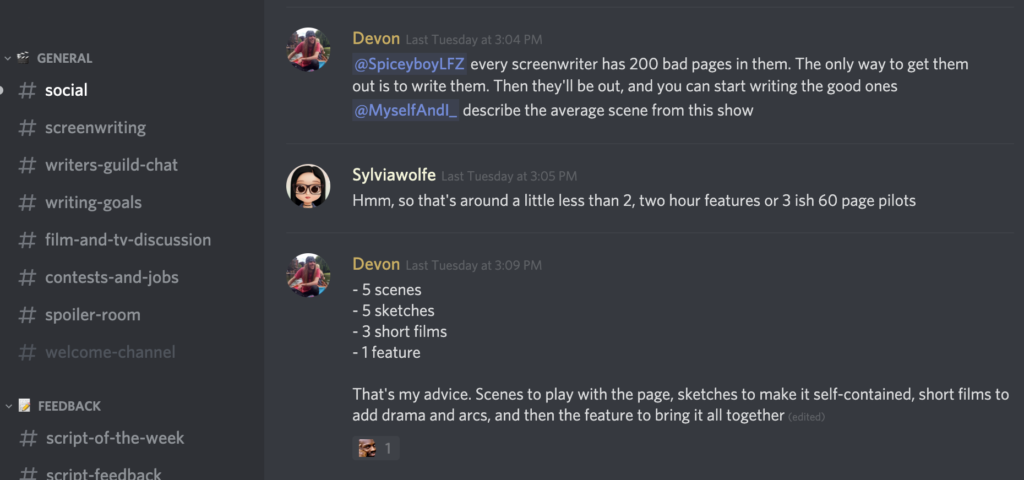 "The Screenwriters Network has helped keep me motivated and writing regularly. There are table reads, writing challenges, resources and a community of hardworking screenwriters to connect with." – Gigawatt, member since 2018.
"The Screenwriters Network Discord has helped me connect with other passionate writers. I've learned and grown as a writer and have made connections as well. On top of that, by donating just a dollar a month I'm part of the VIP community, which is very tight knit, inclusive, and active. Thank you Screenwriters Network!" – Nick, member since 2019.
"Joining the Screenwriters Network has been the best decision I've ever made in my screenwriting journey! It's a friendly, knowledgeable community who love to teach and help their fellow screenwriters." – Jay Creek, member since 2017.
"The Screenwriters Network not only offers a community of supportive writers who offer genuine and constructive advice, but with a veritable smorgasbord of benefits to being a patron, it's the best bang for your buck a writer can pledge." – Alex, member since 2016.
"I've sold 3 scripts since I joined so." – Hickeyyy, member since 10 minutes ago.
Questions? Reach out to us at screenwritersdiscord (at) gmail (dot) com.