Alongside our industry partners and sponsors, we are thrilled to announce the Top 11 Finalists and our 1st, 2nd, and 3rd place Winners for the 2020 Killer Shorts Horror Short Screenplay Competition.
First, we would like to give a big thanks to our sponsors Shudder, Final Draft, WeScreenplay, Script Butcher, Virtual Pitchfest, Screencraft, Oregon Scream Week, Crimson Screen Horror Film Fest, Coverfly and FilmFreeway.

Listed below are the Top 11 Finalists of the 2020 Killer Shorts Horror Short Screenplay Competition, selected from a whopping 765 submissions! Please note, these are listed in alphabetical order!
The Top 11 Finalists
| TITLE | WRITER/S |
| --- | --- |
| BABY DOLL | John Burr |
| CONSUMED | Brian K |
| FALL | Danny Newell |
| FINAL FINAL GIRLS | Ben DeLoose & Matthew Chilelli |
| FREEZER | Chris Wiltz |
| INTRUDER | Maria Wilson |
| SECOND SKIN | Gary Davies |
| THE RICKETY MAN | Jeremiah Lewis |
Here's an image so the finalists can show off to friends…you know you want to.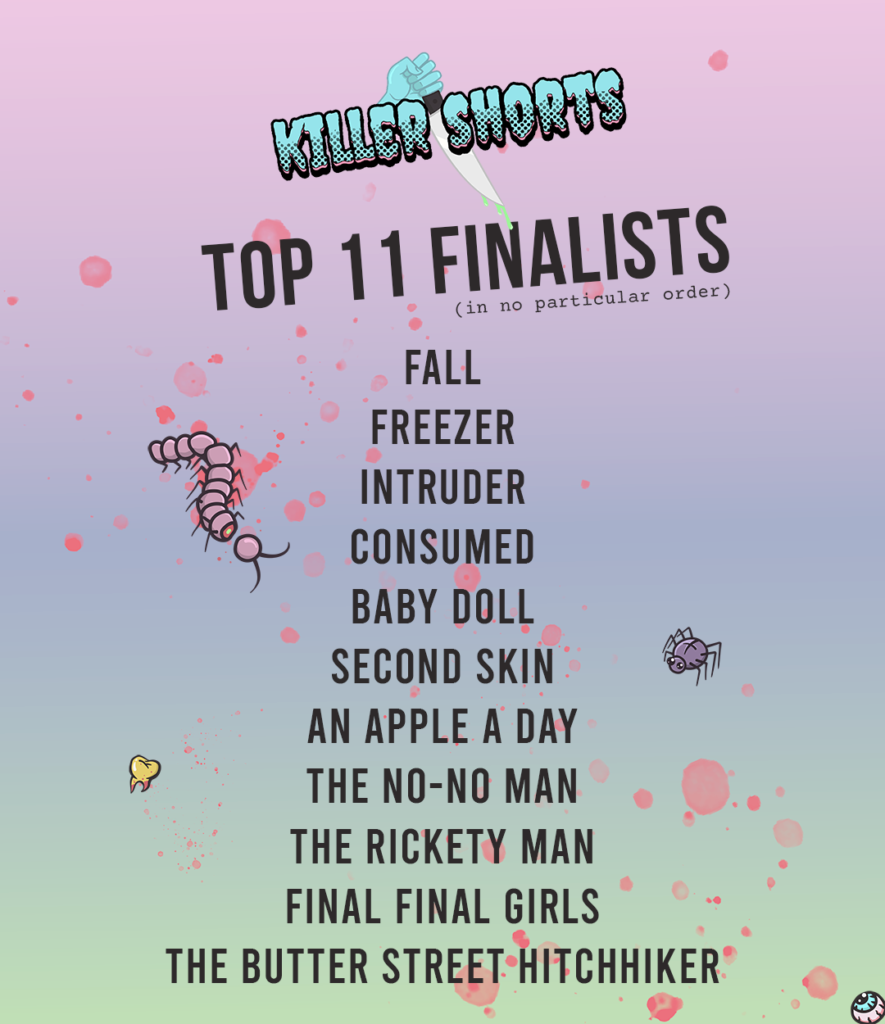 The semi-finalist scripts were so strong we had to add an extra slot to make it 11!

Congratulations to the screenwriters of these incredible horror short screenplays! We expect big things from you and will do whatever we can to help you along the way.
And now our Top 3 Winners:
1st PLACE
AN APPLE A DAY
by
Allen Roughton

In a macabre twist on the "Apple a Day" nursery rhyme, a medieval farm boy must escort his sister through an onslaught of malevolent plague doctors after his teasing pushes her to take a forbidden bite from the daily apple offering meant to ward them off.
2nd PLACE
THE NO-NO MAN
by
CJ Whitehead

A boy, being abused by his dad, receives help from an animated TV show character who comes to life and takes vengeance on the boy's behalf.
3rd PLACE
THE BUTTER STREET HITCHHIKER
by
Chris Hicks

Haunted by his past, a driver picks up a ghostly hitchhiker who will answer his deepest, darkest question if he drives him to his destination.
CONGRATULATIONS WINNERS!
Click here to congratulate the Finalists and Winners on Twitter!
The Top 3 scripts will be circulated and recommended to our network of industry professionals, including agents, managers, and producers at the following companies: Grey Matter Productions, Paradigm Talent Agency, Good Fear Content, and Affirmative Entertainment.

These companies have a history of working with writers and directors who break into the industry with horror short films. While there are no guarantees what will happen, we're excited to champion these three talented writers and help launch their careers!
And that's a wrap on the inaugural first season of the Killer Shorts Horror Short Screenplay Competition. We've learned a lot and plans are already in motion to launch season 2 in a few months. If you're interested in sponsoring us, please reach out to Alison at the email listed below.
If you'd like to receive a notification when this contest re-opens for entries in 2020, you can subscribe for updates via Coverfly here.

Best wishes,

Alison Parker, Contest Director
Contact details: alison@killershortscontest.com
For all the latest Killer Shorts news and updates, follow us on Twitter, Facebook, and Instagram.