Who can enter this contest?
Anyone in the world, however writers must be 18 years or older.
What genres are eligible for the contest?
Your screenplay must be in the horror genre or one of its sub-genres such as horror comedy, horror western, horror thriller, horror sci-fi etc. Submissions will be treated equally irrespective of sub-genre by the judges.
How long can my script be?
As this is a contest for horror shorts only, scripts must be under 35 pages.
How do I submit my screenplay?
Submit your screenplay via Coverfly, Filmfreeway or ISA.
What happens if I want to send in a revised draft of my screenplay?
You can re-upload a new submission on Coverfly for $5.
Do I need to submit a logline with my screenplay?
Yes, you must submit a logline when uploading your screenplay. If you need help writing a logline, check out the #logline-workshop in the Screenwriters Network Discord server for some free assistance!
Should I include a title page with my screenplay?
Yes, please include a title page. Do not put contact information of any kind (name, email address, phone numbers) in your screenplay.
Do we still own our material if we win/submit?
Absolutely. You will sign a release form before the major agencies, producers and managers read it, protecting both parties. We want you to produce your stuff (it's not required, but we hope winning the contest will encourage those with desire to make it themselves to do so) and will have no involvement in that side of things. We're just helping bring exposure and connections to the writers who win.
I'm a working writer, can I still enter?
This contest was created for emerging screenwriters. To be eligible, your total earnings for film and TV, produced or un-produced must not exceed $10,000 in the past 12 months. This excludes competition wins and grants.
Must my screenplay be original IP or can I adapt real-life or fictional events?
The screenplay's IP must be solely owned by the writer or writers of the piece. Writers may adapt real-life or fictional events once it does not impinge on the IP of copyright-holders. So, for example, public domain content or real-life events that are not rights-held would be suitable for adaptation but last year's chiller would not. Prequels or sequels of any property not solely owned by the writer or writing team are not acceptable for this contest.
I'm part of a writing team, can we enter?
Yes, your team can absolutely enter. It's up to you to split the prize if you win.
I'm part of a writing team, and we've already submitted a screenplay to the contest. Now, I want to enter another screenplay under my own name. Can I do this?
Yes, you totally can. We accept multiple entries from writers and writing teams. You just need to pay the entry fee for another screenplay entry.
Can I submit multiple screenplays?
Yes, you can submit multiple screenplays to the contest.
I've entered, but am having second thoughts. Can I get a refund?
No, all submission fees are final.
My submission has just been optioned. Can I still be considered in the contest?
If you screenplay has been optioned, congratulations, however this will make you ineligible for the contest. If your screenplay is optioned or sold while under consideration by the judges, you must inform the contest.
I don't live in the USA, can I still enter my screenplay?
Absolutely! Just keep in mind that all screenplays must be written in English and follow the traditional screenwriting format.
What are the length requirements for my submission?
Submissions must be 35 pages or under. There is no minimum page count.
What are the scoring categories?
Our readers will be judging your scripts based on the following: Plot, Character, Concept, Originality, Style, Dialogue, Formatting, Overall Writing Quality, Visual Inventiveness, and Potential for Feature Adaptation.
Do you have any advice on how to write a short horror screenplay that could win this contest?
Yes! First, watch a LOT of successful horror shorts. We've got a great list to start you off here. Second, use the free resources at the Screenwriters Network discord server to brainstorm ideas, swap scripts, table read rough drafts, and learn more screenwriting tips from our experienced members.
If I win and those industry people read my script, how do I know they won't steal my idea?
All winners will be required to sign a release form before we circulate your script to agencies and production companies. Additionally, although it's not required, we highly recommending you copyright your work.
If I win, will my script be optioned or bought by one of the agencies reading it?
No. We can't promise they will like it. We can only guarantee that our industry parters will read the top 3 winning scripts. That may be the end of it — or they may love it and want to reach out to you to discuss further. Either way it's an incredible opportunity!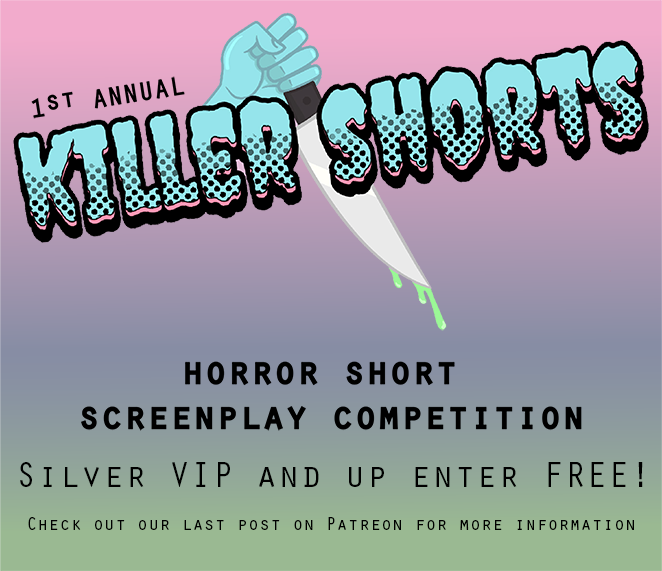 What is the Screenwriters Network Discord Server?
The Screenwriters Network is a fast-growing community of over 5000+ screenwriters looking to network, improve their craft, exchange feedback and workshop ideas. It all goes down on a chat platform known as Discord. You can learn more about it here before deciding to join. Also, it's free!
I'm a member of the Screenwriters Network Discord Server, do I get a discount or free entry to the contest?
If you are a Silver Level VIP (or above) member of the Screenwriters Network Discord Server, you can submit one (1) free screenplay entry to the contest. Entry for Silver VIP (or above) members is complimentary of their support for the server and must be submitted by the normal deadline of November 15th 2019. Non-VIP members must pay normal entry fees.
I'm a Silver Level VIP Member of the Screenwriters Network — how do I get my free entry code?
When we re-open for submissions, check the posts on our Patreon page, or ask for help within the #server-help channel of the Discord server to receive your free entry code!
I'm not a member of the Screenwriters Network yet, but I'd like to join now. Can I still get free entry?
Yes! We'd love to have you join our community, and as long as you become a Silver Level VIP Member by the Regular Deadline, you can get a free entry code. Just click here to join!
I love what you're doing and I want to help. I'm an agent, manager, producer, executive, or potential sponsor. How can I reach out?
We are always looking for new sponsors or connections to industry folk who can help our screenwriters on their journey. Please fill out the contact form or send an email to alison (at) killershortscontest (dot) com to reach out.